The 8 Best Outdoor Pizza Ovens for 2022
By
Staff Writers
|
Updated March 22, 2022
---
There are almost as many ways to cook a pizza these days as there are toppings to try. Options for ovens dedicated to homemade pizza-craft run the gamut from simple and traditional to high-tech & super high-temp. The variety can be a lot to chew through, so we did the prep work—here's our hot list of Home Pizza Ovens.
It could be easily argued that pizza is humanity's greatest achievement. The sacred wheel is universally loved. Its simple components, a harmony of life-affirming goodness. And yet much like music and art, our taste for pizza—our unique criteria for perfection—is 100-percent personal.
Our survey of the best home pizza cookers reflects this diversity of opinion. Whether you're cooking indoors or out, with LP gas, wood, or charcoal, these pizza ovens deliver the ooey-gooey & crispy-crust you crave.
From the award-winning Italian Ooni ovens to a countertop smart appliance to a portable brick oven and a stovetop burner dome, this list will take you from pie-curious to pro pizzaiolo no matter what you choose.
---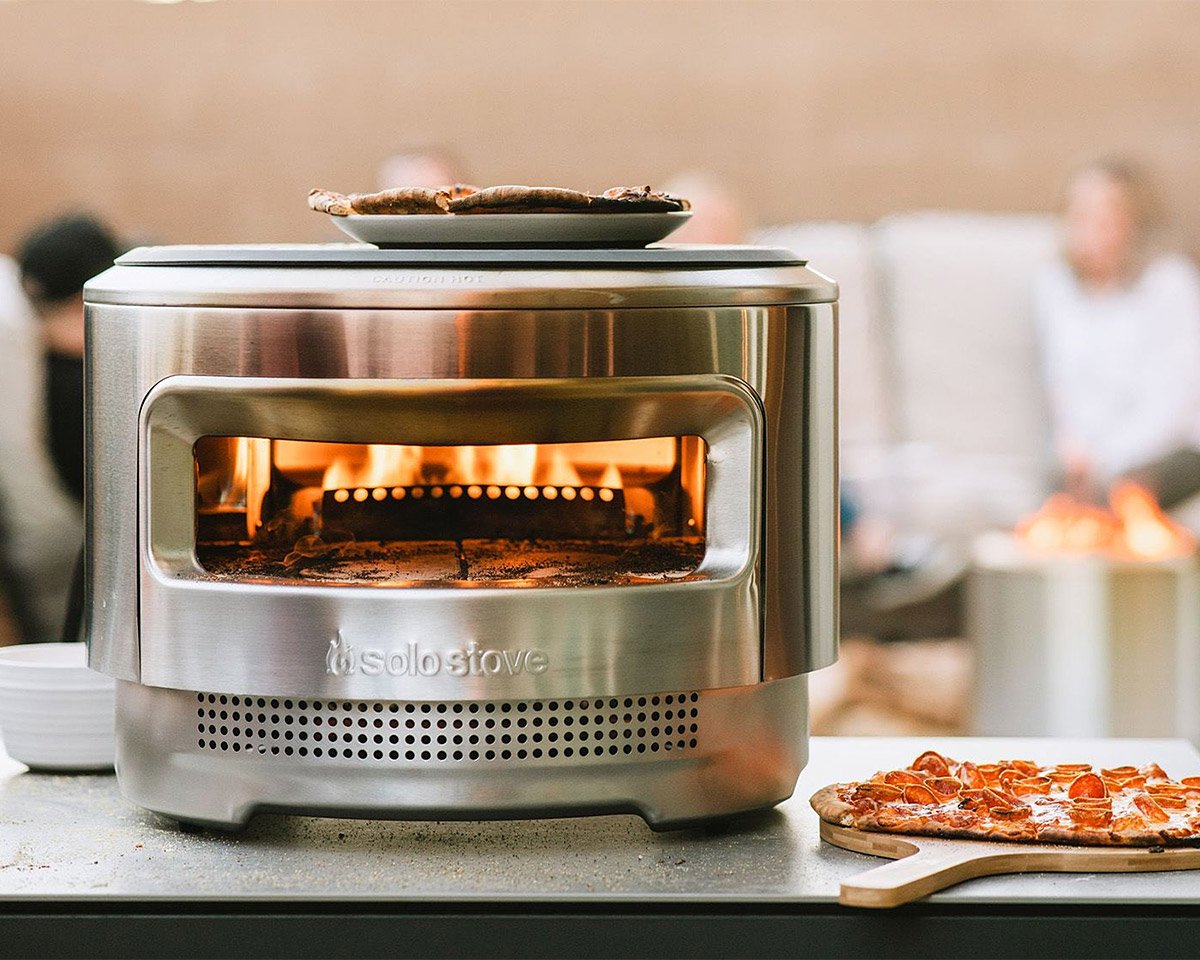 Solo Stove Pi Pizza Oven
---
---
The Pi Pizza Oven from Solo Stove uses your choice of real wood or propane to cook perfect 12" pizzas outdoors. The cylindrical stainless steel design features a Cordierite pizza stone and a domed interior for consistent 360º cooking. Available to ship May 16.
---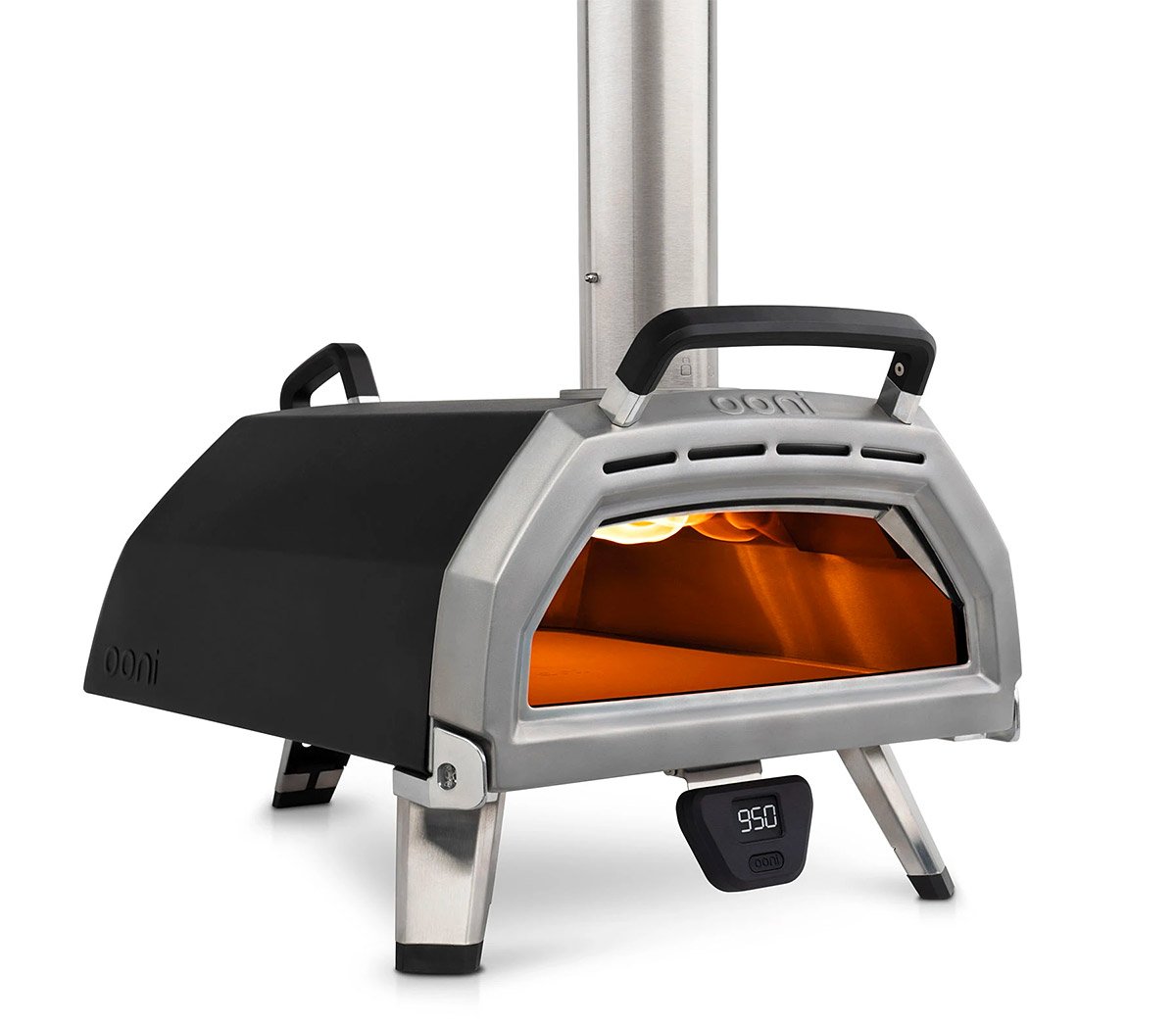 Ooni Karu 16 Multi-Fuel Pizza Oven
---
---
The Ooni Karu 16 multi-fuel pizza oven is the first and only pizza oven to be recommended by the Associazione Verace Pizza Napoletana, the acclaimed international authority on true Neapolitan pizza. It can reach heats up to 950º in just 15 minutes & cooks pizzas up to 16" in diameter with wood or charcoal out of the box, or use gas with the brand's dedicated gas burner which is sold separately. Its new hinged door design features ViewFlame technology so you can watch the magic happening inside.
---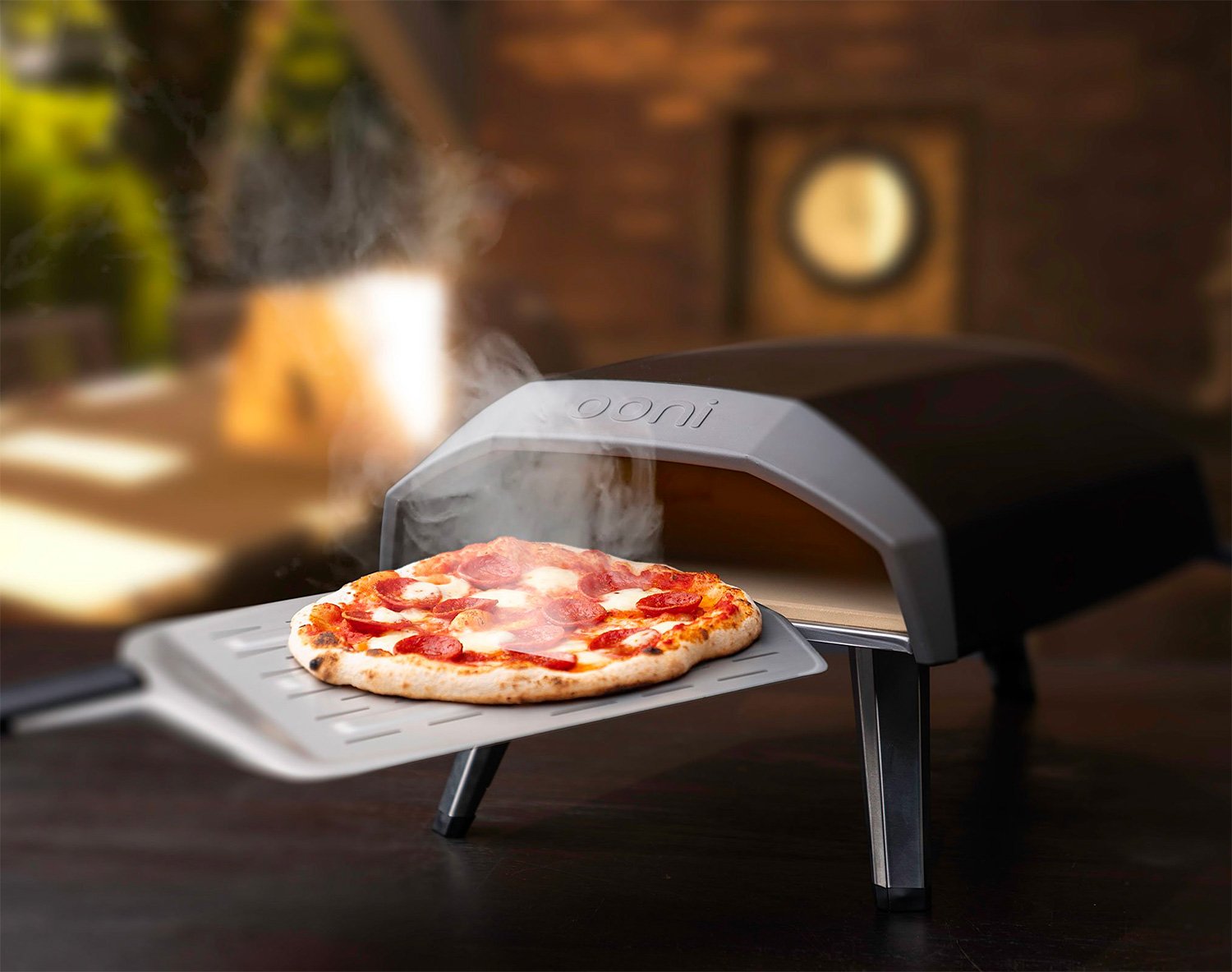 Ooni Koda 12
---
---
The Ooni Koda outdoor oven is a portable, gas-powered pizza cooker that reaches temps nearly twice as hot as a conventional oven. Up to 932º which will give you a crispy 12-inch Neopolitan pie cooked to perfection, in just 60 seconds. With stainless steel construction in a compact design plus fold-out legs, & a standard propane connection, the Koda will easily take your pizza party on the road.
---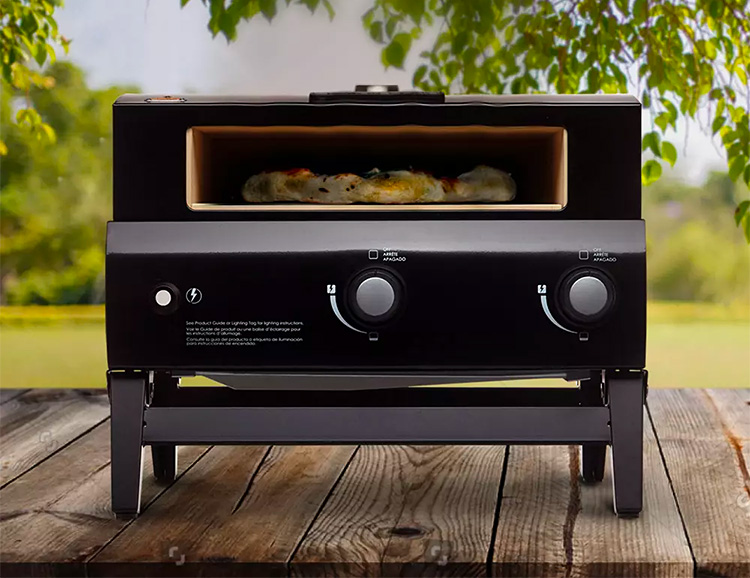 BakerStone Portable Gas Pizza Oven
---
---
Combining convective, conductive and radiant heat, the Portable Gas Pizza Oven Box from Bakerstone quickly reaches the temps of a real wood-fired pizza oven. Reaching over 800º f in just minutes. Powered by propane, it is fully portable with travel-ready fold-up legs, so it's good to go for making proper pizza anywhere you choose.
---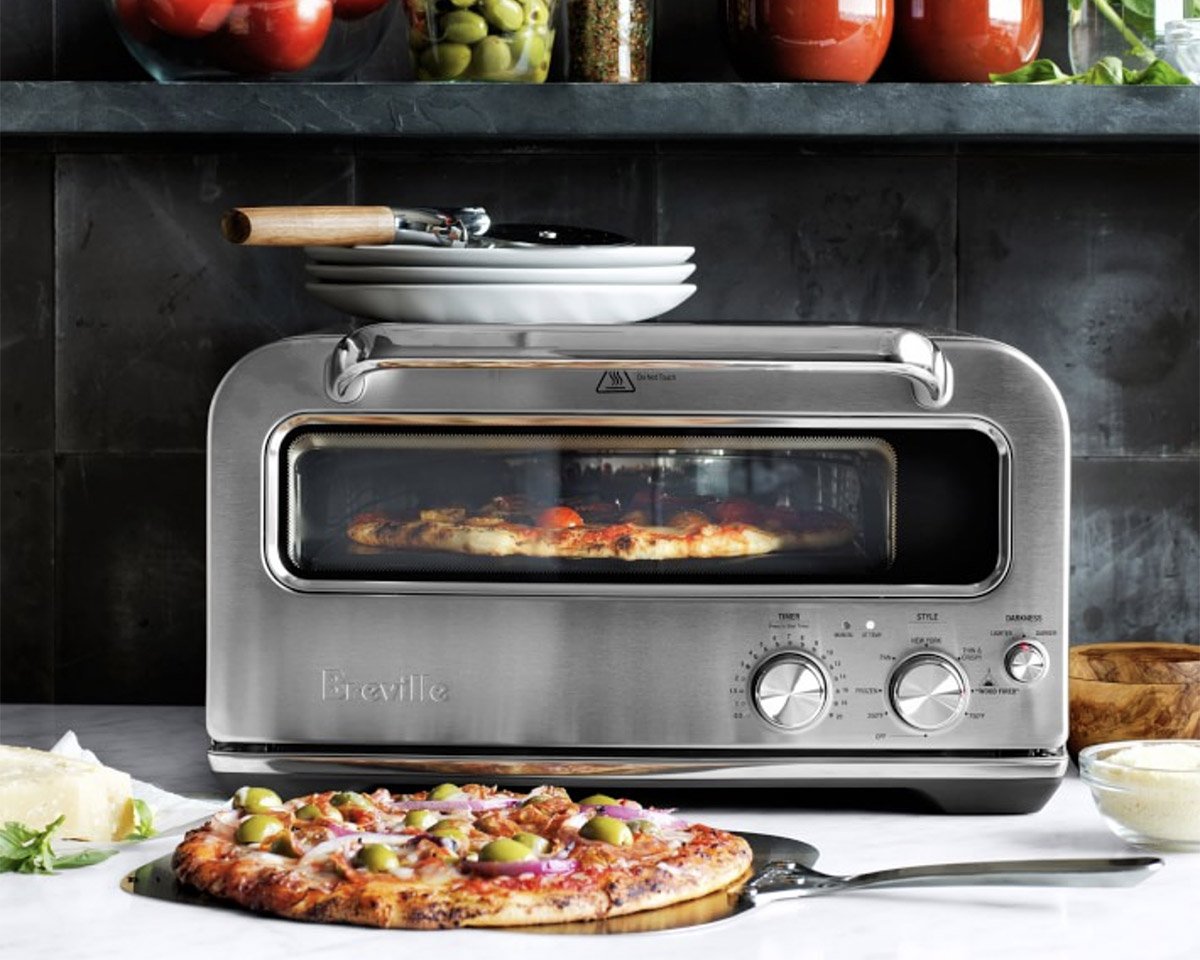 Breville Smart Oven Pizzaiolo Pizza Oven
---
---
Designed to deliver killer homemade pizza, the Smart Oven Pizzaiolo from Breville is a compact countertop oven featuring an innovative Element IQ system that reaches temps of up to 750° and maintains them to produce perfect pies. A variety of settings allow you to create the ideal baking environment to suit your needs for cooking frozen, Neapolitan, or thick crust pizzas. The oven also comes with a stainless steel pizza peel, & a carbon steel pan with a removable handle.
---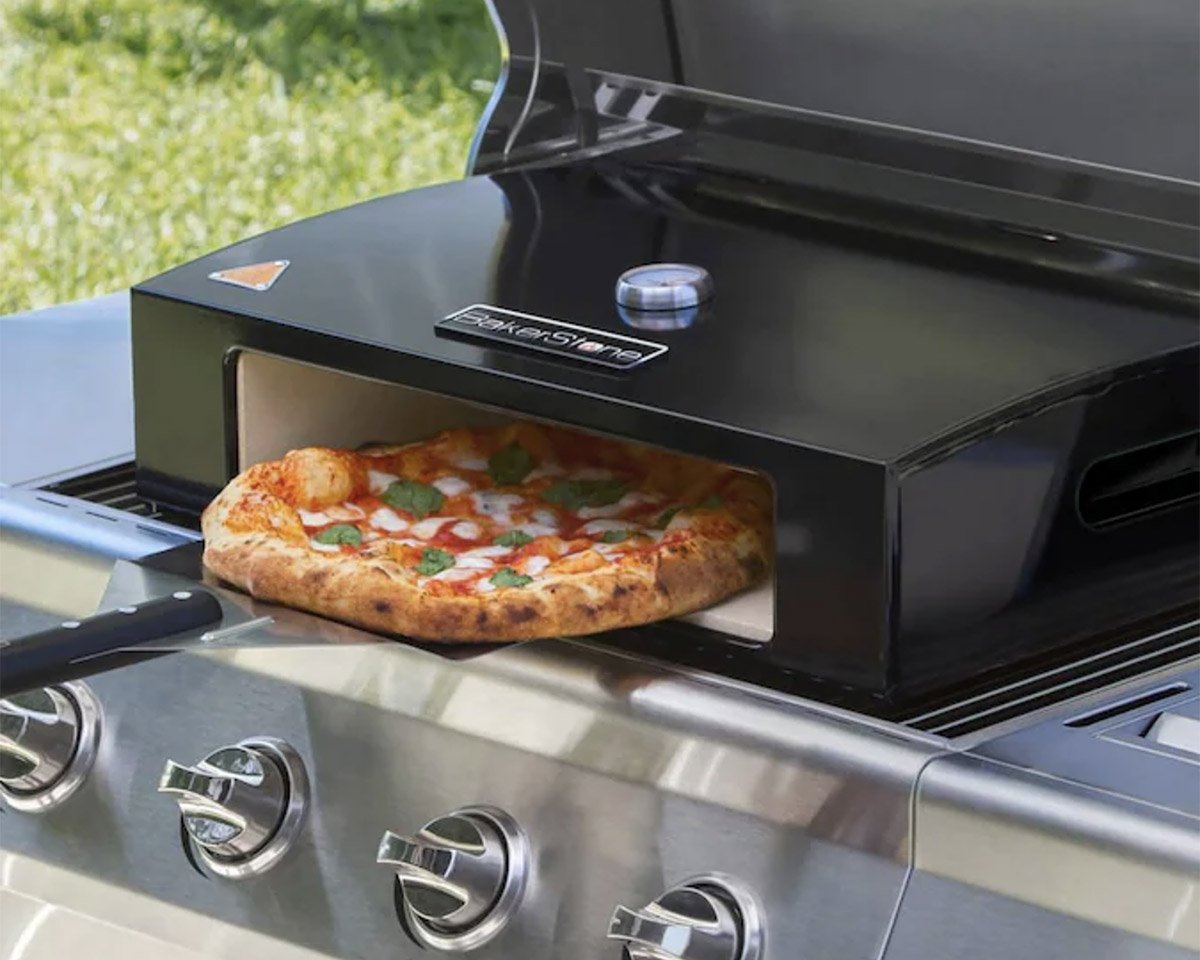 BakerStone Ceramic Pizza Stone Kit
---
---
The Bakerstone turns your grill into a pizza oven, giving you an easy and foolproof way to make homemade pizzas outdoors & without having to buy a separate appliance. Just drop it on your gas or charcoal grill and once heated, it will cook your 12" pizzas in just 2 to 4 minutes plus you can use it roast meats, veggies, & bake cookies & bread as well.
---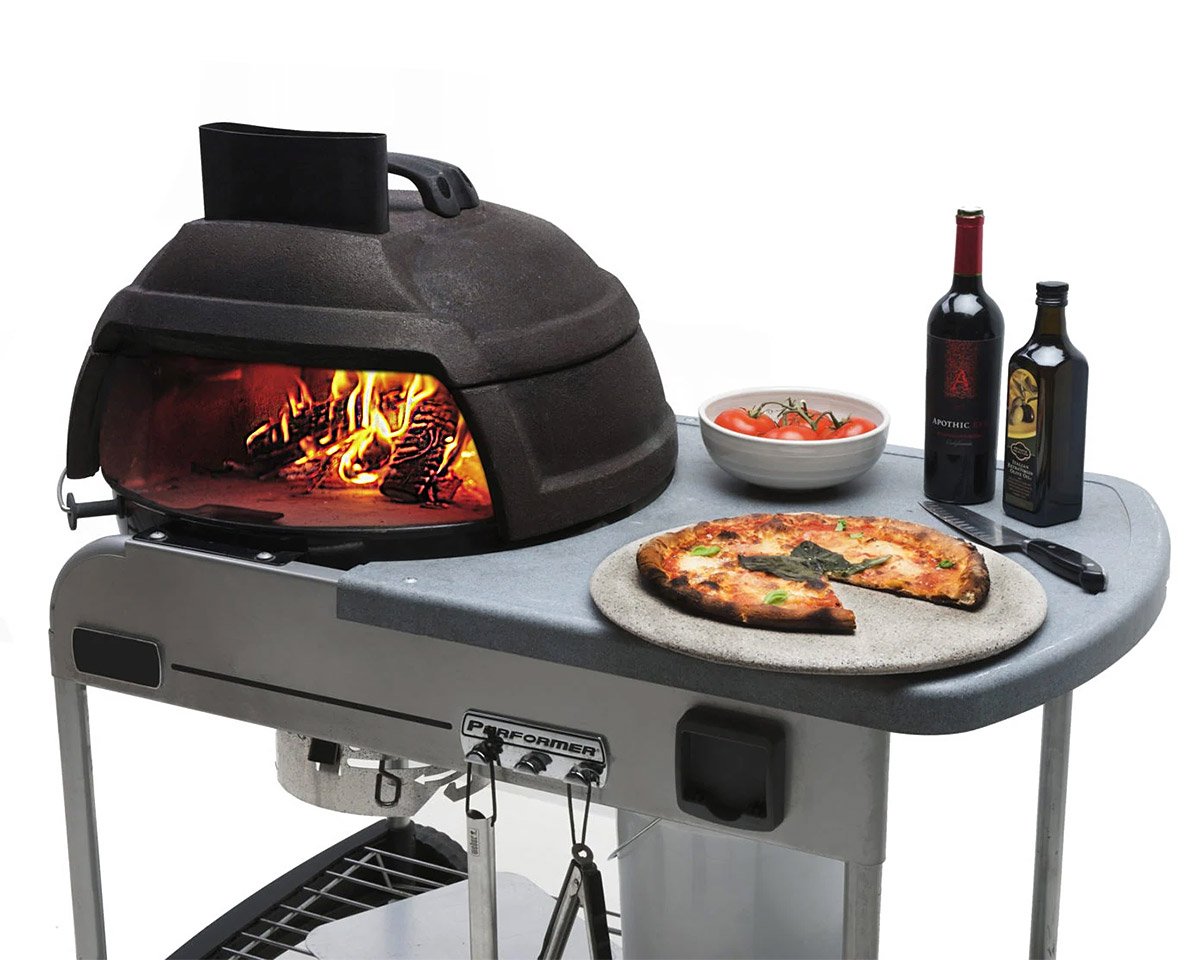 The Relic Brick Oven
---
---
If you've been pondering how to take your brick oven cooking skills on the road, the Relic has you covered; it's a portable brick oven with a stylish, durable, modular & most importantly, mobile design. The combination of a built-in firebox & lightweight dome create temps between 800-1100 degrees—exactly what you want for perfect brick oven pizza. The Relic fits directly onto 22" kettle-style grills like Weber's Silver & Gold models.
---
Pizzacraft Pizzeria Pronto Stovetop Pizza Oven
---
---
As long as you've got a gas stove in your kitchen, this stovetop pizza oven will turn you into an at-home pizza chef. Its domed design quickly reaches a cooking temp of 600-degrees to cook your 12-inch homemade pies in just 6 minutes. It features a steel base & hood and comes with 2 cordierite pizza stones, ensuring crispy crust every time.
---
WERD has been reader-supported since 2009. When you buy through a link on our site, we may earn an affiliate commission. We do not accept compensation for reviews.